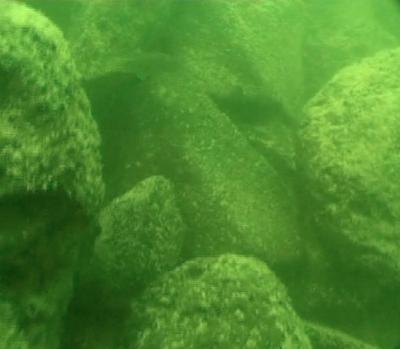 Credit: Shmulik Marco / American Friends of Tel Aviv University (AFTAU)
June 10th 2013
Science 2.0
The Sea of Galilee, located in the North of Israel, has numerous significant archaeological sites and an ancient structure underneath the waves adds to its mysteries.
The cone-shaped monument, approximately 230 feet in diameter, 39 feet high, and weighing an estimated 60,000 tons, was found while conducting a geophysical survey on the southern Sea of Galilee, reports Prof. Shmulik Marco of TAU's Department of Geophysics and Planetary Sciences.
Initial findings indicate that the structure was built on dry land approximately 6,000 years ago, and later submerged under the water. Marco calls it an impressive feat, noting that the stones, which comprise the structure, were probably brought from more than a mile away and arranged according to a specific construction plan.
Dr. Yitzhak Paz of the Antiquities Authority and Ben-Gurion University says that the site resembles early burial sites in Europe and was likely built in the early Bronze Age. He believes that there may be a connection to the nearby ancient city of Beit Yerah, the largest and most fortified city in the area.
Stonehenge Beneath Lake Michigan
Magnetic Crystal Finally Solves Mystery of the Bermuda Triangle?
Brazilian 'Atlantis': Submersible Finds Possible Evidence Of Continent Deep Beneath Atlantic Ocean (VIDEO)