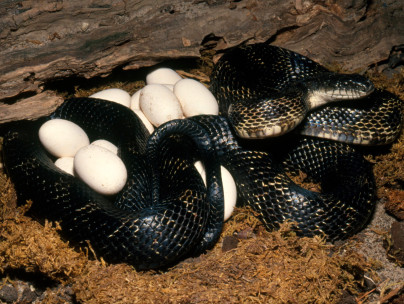 A black rat snake with eggs
Arin Greenwood
This sounds more alarming than it ought: Snakes may be falling from trees at a D.C. playground. And the playground is built on top of two old cemeteries.
Prince of Petworth first noticed the Metropolitan Police Department Posting on the Adams Morgan Yahoo listserv about an incident at the Walter C. Pierce Community Park playground:
On Thursday, May 23, 2013 around 11:40am a call came in about a couple of snakes that fell out of the trees. When the snakes fell they scared the children, and everyone fled. This was in the playground area. I responded but found no snakes. I caught one small enough to fit inside an empty water bottle I had. It was probably a black rat snake. They are indigenous to trees and the warm weather is drawing them out.
Sergeant Joseph Perren
Metropolitan Police Department
Third District Station
As the Washington City Paper noted, it was recently reported that the playground -- and adjoining dog park and sports fields -- lie atop thousands of bodies still likely buried in D.C.'s first Quaker cemetery and a 19th-century African American cemetery. Which, admittedly, provides something of a spooky backdrop.
But the snakes themselves, when not falling on or near unsuspecting children, are not inherently frightening (except insofar as all snakes, and large snakes in particular, are inherently frightening).
Giant 18 Foot Python Captured In Florida
Legend of elusive Yowie - The Australian Bigfoot